Save
Time, Money, Effort
Designed specifically to make your PDR Training experience a whole lot easier...A much more efficient way to learn Paintless Dent Repair
Request Catalog
The Best Way to Learn the Art of PDR
Dentless Touch
is proud to announce Paintless Dent Repair training courses designed and instructed by Certified Master Technicians Dave Oh and Christopher Ray!
For the first time, you can jump-start your transition into the high-revenue fast-paced PDR industry at a fraction of the cost of multi-week training camps. Our method is: Learn the key skills with us, then practice at home until you are ready to learn more. We have found this to be the best way to become a PDR expert quickly and cost-effectively. Christopher Ray
Master PDR Technician
I am Christopher, the President, and CEO of Dentless Touch. Master Technician. I have over 16 years of experience as a PDR Technician. I matriculated at Montgomery Community College where I majored in Automotive Engineering. I have a true passion for the automotive industry that began when I was ten years old. From understanding the mechanics to utilizing advanced PDR techniques, I value the opportunity to leverage my background in Automotive Engineering to hone my expertise as a PDR Technician.

Dave Oh
MASTER PDR TECHNICIAN
I am David (also referred to as "Dave") and I am the Lead Trainer and a Master Technician at Dentless Touch. "Hailing" from Chicago, IL, I have now brought my expertise and knowledge to Springfield, VA. I have over a decade of PDR experience and have held numerous leadership roles ranging from Team Leader at a large PDR organization, a one-truck mobile PDR Technician, to an independent PDR small business owner. I currently lead the development and implementation of Dentless Touch's strategic objectives and growth initiatives in addition to being responsible for the coordination and instruction of the company's external training programs. Frequently asked questions
Check out this video we have discussing the common questions about our PDR training
Most Popular
Intro to PDR
Designed for beginners
Foundational PDR Techniques
On-Panel Training
Over 16 hours of hands-on Training
Get our Training E-Book
The Beginner's Guide to Paintless Dent Repair (PDR) consists of the pertinent fundamental knowledge, techniques, tools, and tips you will need to begin your professional journey as a Paintless Dent Repair Technician.
Includes
Free Glue Pulling Guide
30 pages of content and 8 instructor videos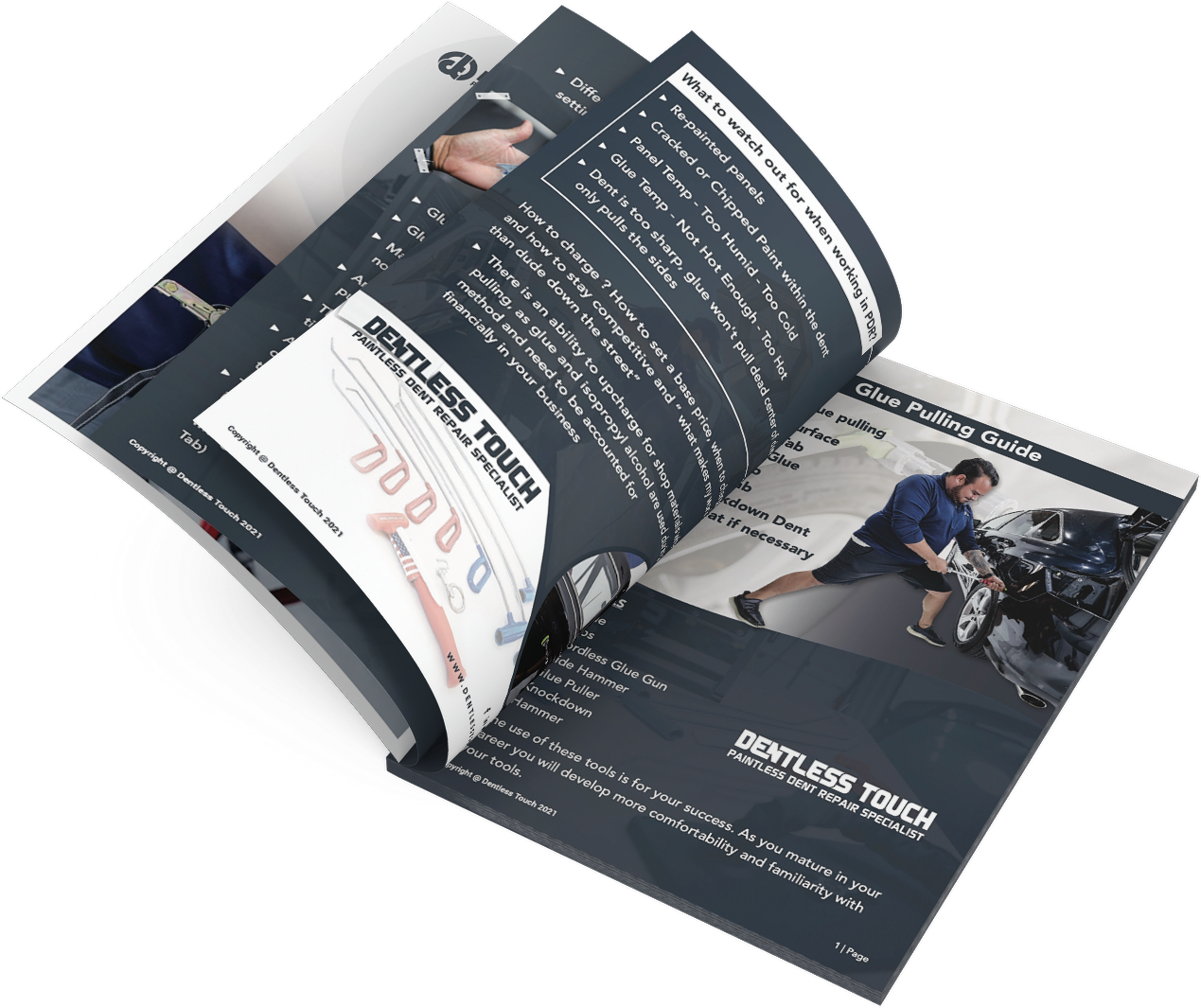 Right From the Blog
You can easily show popular or recent blog posts for a given tag/topic.
It's your last chance!
Nah... Not really. But you knew that. I will just leave this button here for you when you need it.
Get your Catalog